A small collection of jumps from this years trip to Switzerland. Wingsuit aerials performed from The Eiger, Kandersteg & The Valley (Lauterbrunnan). Parkour inspired BASE jumps performed with a 165m vertical drop, Catpass Gainer and messing around on the railing. Cheers everyone for the crazy jumps and thanks for watching!
Jumpers: Daddo, Mavs, Woody, George (R.I.P.), Kemeter Mich, Matt Strickland, Anicet Leone, Tancrede Melet, Alex Duncan, Douggs, Dylan Carter, Hamish Stratford, Carl Jeffris and myself.
Extra footage: Daddo, Mavs, Woody, George (R.I.P.), Samantha Hitcock
Songs: 1. Bucketlist – The Stoops
2. Spitfire – The Prodigy
(Like The Stoops on facebook facebook.com/#!/TheStoopsOfficial)
(Download their music thestoops.bandcamp.com/album/stoopsquared)
Thank you to my Sponser Smiley Clothing Australia for the sik shirts and supporting human flight ( facebook.com/#!/pages/Smiley-Clothing-Australia-Pty-Ltd/129025450491927)
Cheers to the Perth Parkour crew for the sik training sessions, inspiration and support. (facebook.com/#!/groups/193825370628219/)
Cheers to Western Australian Wingsuiting and BASE crew for mad times around the Globe!
See more Videos at https://vimeo.com/user9734177
To purchase a SCA Extreme Team print t shirt go to www.smileyaustralia.com.au
Summary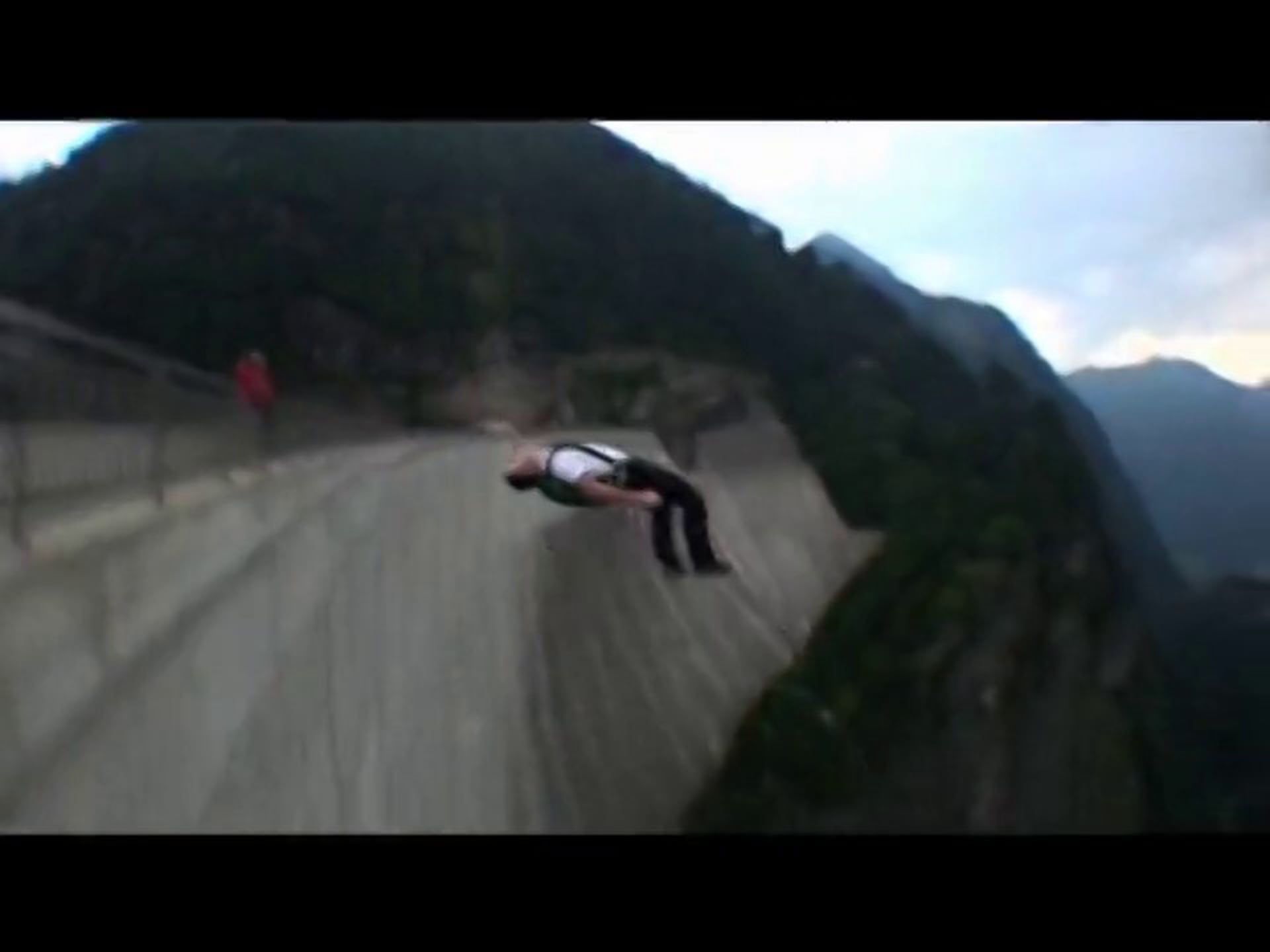 Title
Extreme BASE jumping in Switzerland - Scott Paterson (Aussie)
Description
A small collection of jumps from this years trip to Switzerland. Wingsuit aerials performed from The Eiger, Kandersteg & The Valley (Lauterbrunnan). Parkour inspired BASE jumps performed with a 165m vertical drop, Catpass Gainer and messing around on the railing. Cheers everyone for the crazy jumps and thanks for watching! Jumpers: Daddo, Mavs, Woody, George (R.I.P.), Kemeter Mich, Matt Strickland, Anicet Leone, Tancrede Melet, Alex Duncan, Douggs, Dylan Carter, Hamish Stratford, Carl Jeffris and myself. Extra footage: Daddo, Mavs, Woody, George (R.I.P.), Samantha Hitcock Songs: 1. Bucketlist - The Stoops 2. Spitfire - The Prodigy (Like The Stoops on facebook facebook.com/#!/TheStoopsOfficial) (Download their music thestoops.bandcamp.com/album/stoopsquared) Thank you to my Sponser Smiley Clothing Australia for the sik shirts and supporting human flight ( facebook.com/#!/pages/Smiley-Clothing-Australia-Pty-Ltd/129025450491927) Cheers to the Perth Parkour crew for the sik training sessions, inspiration and support. (facebook.com/#!/groups/193825370628219/) Cheers to Western Australian Wingsuiting and BASE crew for mad times around the Globe! See more Videos at https://vimeo.com/user9734177 To purchase a SCA Extreme Team print t shirt go to www.smileyaustralia.com.au