Just a couple of weeks ago appeared a video on youtube that every wingsuit lover should watch. The title is "Insane Wingsuit Trick Shots 147 MPH" and it was posted on the youtube channel devinsupertramp. This channel was created by Devin Graham, 35 years old, an american videographer. He produces videos about extreme sports. His channel has 4.8 milions of subscribers and over 800 million of total views. At the beginning he just filmed his own Snowboard performances, but during one of these he broke his back and his legs so started to focus more on making videos rather than performing himself.
His first plan was to study cinematography at the Brigham Young University to be able then to work as a film director, but after that he noticed the success and the big amount views of a video made just with a mobile phone and decided to focus on creating such kind of videos instead of finish the university.
And so started his career as a youtube videomaker focusing above all on extreme sports. His videos are really appreciated for their quality that is really high thanks to his editing work.
Devin dedicated this video to the most amazing wingsuit tricks and we can say that he did a great job. These tricks were performed by 2 Wingsuit Athletes: Marshall Miller and Jesse Hall.
In 3 minutes are shown 4 unbelievable tricks . Also the set, that seems to be the Great Canyon, is astonishing.
The first trick is called "The Extra Point".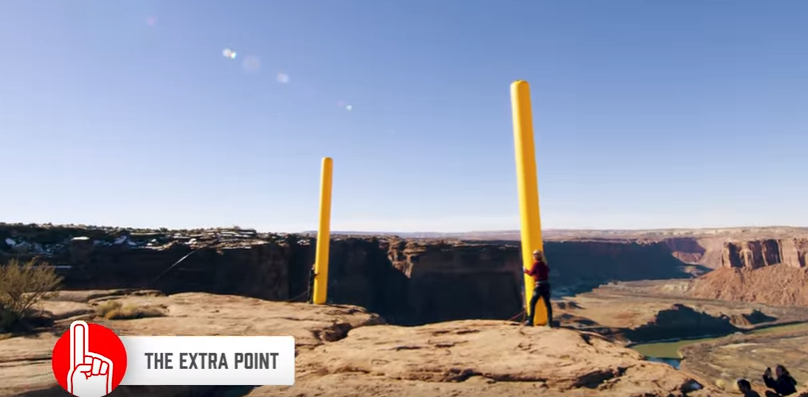 H/T:devinsupertramp
Here the wingsuit athlete jumps from the helicopter and starts to fly really really fast. His goal is to pass between 2 yellow pylons collocated on the top of a mountain without touching them and he makes it. The second trick is called "Two Point COnversion" and here the athlete must hit a balloon that is going down slowly.
The difficulty here is that the object to hit is not fixed but is moving. The wingsuit athlete hits the balloon perfectly with the Go Pro Camera on his helmet.
The third trick is called "The Field Goal" and seems to be easier than the previous one since the wingsuit athlete must hit an illustration of a Rugby field suspended in the air and also in this case the challenge is successfully completed.
The fourth and last trick is called "Touchdown"-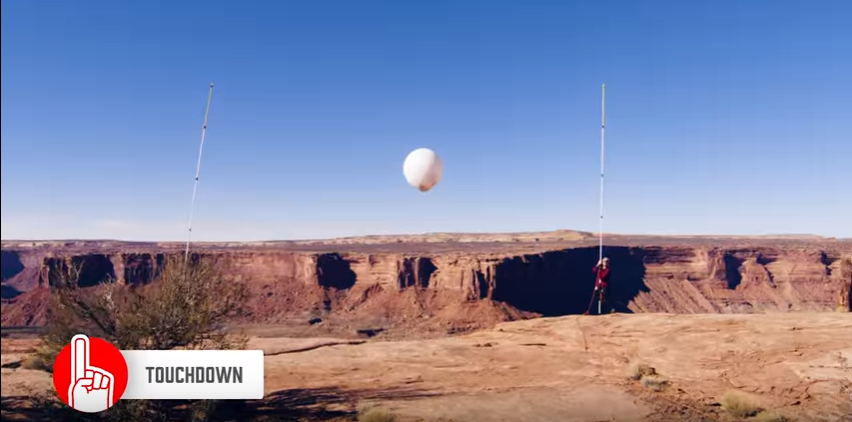 H/T:devinsupertramp
Once again the goal of this challenge is a balloon but this time it's fixed.
And of course also in this case it was a total success. The video is amazing thanks to many factors such as the incredible quality of the video, the same of a today's movie, then editing too is very professional, the variation of the camera angles is on point, just perfect. And last but of course not least the talent of these 2 athletes is something incredible. They seem to have total control of the directions even flying at such high speed! We just look forward to watch some other Wingsuit video from Devin.
Summary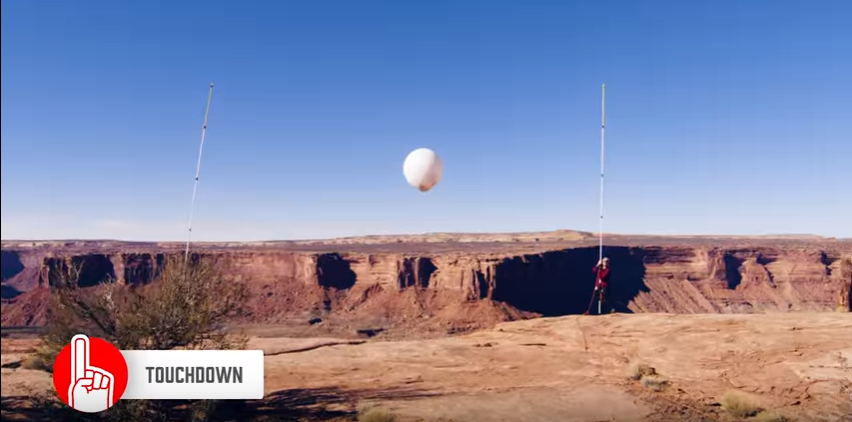 Title
INSANE WINGSUIT TRICK SHOTS
Description
Just a couple of weeks ago appeared a video on youtube that every wingsuit lover should watch. The title is "Insane Wingsuit Trick Shots 147 MPH" and it was posted on the youtube channel devinsupertramp. This channel was created by Devin Graham, 35 years old, an american videographer. He produces videos about extreme sports. H