The City of Gold, Dubai, has become a paradise for Skydive lovers, is that Dubai, has everything, has become the headquarters of numerous extreme adventure sports, where many skydiving competitions are organized and where people from all over the world participate, to experience sport on its shores, since it has some of the best parachuting facilities in the world
Skydiving in Dubai, is a spectacular adventure sport that will definitely be the experience of your life, even if you've never tried it, it's time to put your nerves aside, and launch yourself to a fantastic experience that you can not stop doing, on one of the most spectacular "drop zones" in the world, there is nothing to fear, because safety is a priority, and strict rules and regulations must be observed.
A free fall of approximately one minute until the instructor opens the parachute, there begins a slower and leisurely descent of approximately five minutes, the ideal moment to enjoy the best scenery, the aerial view of the immense skyline of Dubai, contemplating the dazzling ocean, from Some 5,000 meters high, while the gusts of wind brush your face.
But if the thrill of freefall from a great height, is too much adrenaline for you, Dubai is home to numerous indoor skydiving centers, where you can feel the thrill of skydiving and the joy and excitement of overcoming fear, without jumping from an airplane.
Before booking, and launching into the adventure, we recommend you have read all the conditions and be sure that you can jump, since there are limitations in terms of weight and height conditions, in addition, you must meet certain health conditions, with which you must be completely honest, for your own good, since they will make you fill out a physical fitness statement where you exempt the company from all types of liability. So if you have heart conditions, high blood pressure, or are pregnant, it does not make sense to book, since you are not within the required parameters. The minimum age to fly is 3 years and the maximum weight is 100 kg.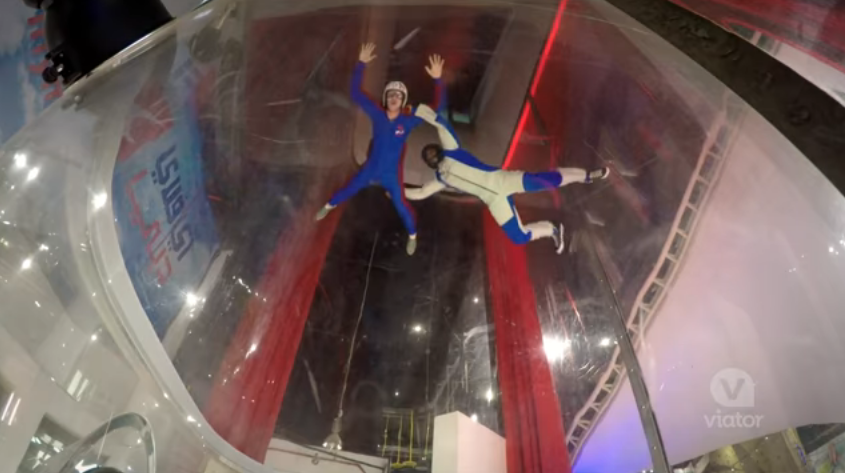 Before the flight, your instructor should give you guidance on the precautions to take, he should also instruct you about the positions that your body should adopt once inside the wind tunnel, as well as instructions on manual signals and the exit and entry.
When the time comes, you will be able to enter the wind tunnel with your instructor and experience the thrill of being in the air instantly. The experience includes two flights of 1 minute each, so you will enjoy more "flight" time than in a tandem jump on a free parachute, and even if you do not find yourself jumping from an unhealthy height, you can enjoy the sensation of weightlessness, with which you can gain confidence to venture to try the outdoor. Likewise, you can make turns and small acrobatics, always with your instructor nearby, just as you would in a free fall from an airplane. Suspended about three or four meters in the air, it is a very powerful adrenaline kick and the closest experience to flying.
Do not think about it, and embark on the adventure, there is a lot to love about skydiving! It is a proposal that everyone should do at least once in their life, if you ask us!